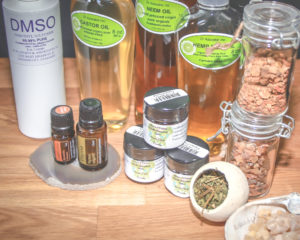 Bloodroot (Sanguinaria canadensis) is native to eastern North America. It is used as a powerful topical treatment for skin tags, moles, and  abnormally replicating cells.
Black Salve is not a replacement for competent medical advice and treatment. Matrix of Holistic Health recommends that prior to usage, the user consults a medical professional for diagnosis of the suspicious skin sites. On the basis of a reliable diagnosis and in conjunction with medical consultation, the user may then make the decision as to whether or not to use black salve or conventional treatment. Black Salve is traditionally known for its ability to discriminate between healthy and abnormal tissue.
Matrix of Holistic Health's FrankinThyme Bloodroot Black Salve is hand formulated from organic herbs, zinc chloride, DMSO (dimethyl sulfoxide). and certified pure therapeutic grade essential oils. Each batch is personally tested for effectiveness on abnormal skin cells.
Matrix of Holistic Health provides free product support to members of the Pastoral Medical Association and licensed healthcare practitioners. For a free, no obligation membership please go here . I provide free product support for those purchasing my black salves. Please read all instructions before use. This is the same formula previously sold on Amazon. I have hundreds of satisfied customers and customer service and safety is my utmost concern.
Please note: this information has not been evaluated by the Food and Drug administration. This information is compiled from traditional and modern herb books, articles, Native American herbal formulas, and research.
When you are buying this product you are agreeing to be fully responsible for your own health, and hold the seller free of any liability. The seller assumes NO responsibility for any adverse reactions from the usage of this product.