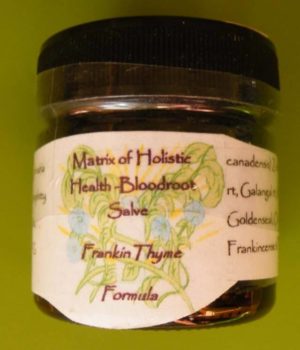 One jar of FrankinThyme Bloodroot Black Salve is $47.00. To order by Paypal, use the Buy Now button below. You do NOT need a paypal account to order, if you would like to order using your credit card look below the paypal log in info and you can use a non paypal credit card to check out. Free gift with every order!
If you would like to order by phone, please call 928-713-5617 and leave your phone number, address, number of jars desired, credit card number, expiration date, and 3 digit code.
Instructions for use of Matrix of Holistic Health Black Salve:
Do not use near eyes or mucous membranes. Apply to only one or two areas at a time as the area may become painful while the herbs work to remove abnormal tissue. Apply once. Cover area to be treated with salve and cover with a bandage for 24 hours. If abnormal cells are present the herbs will continue to work for several days. Do not pick or remove scab, allow it to fall out on its own. Oozing of liquid from the area is normal and is an indication that the herbs are working. Some areas may need more than one application. Some scarring may occur, this can be reduced by applying castor oil on area after the scab falls out. If you wish to reapply, wait until the initial reaction is completed. Some redness and discomfort is normal. Do not use metal applicators, only use wood or plastic ones.
If more detailed instructions and guidance are needed please email your questions and concerns to blacksalves@gmail.com. I will guide you through the application process. Feel free to email photos of areas of concern or salve reaction pictures. This service is available to those that have purchased this salve and are free members of the Pastoral Medical Association http://www.pmai.us and that acknowledge that this info is not intended to be medical advise or to replace the advise of a licensed medical professional.
Frequently asked questions:
How often can I apply?  This depends upon what you are applying it to. Typically you will only need to apply 1 time, then wait 24 hours and remove the bandage. The salve begins to work systemically after this and you may not experience the peak reaction until 3 to 5 days after the initial application. 
What if the area I am applying to is hard to keep covered with a bandage? In this case keep the salve in place as long as you can and reapply until you have had the area salved for close to 24 hours, sometimes less time is required but generally the longest you need to have the salve in place is 24 hours there are some exceptions that I will note later. There are many creative ways to keep the salve in place particularly on animals. You can apply gauze over the salve and keep it in place for awhile with Vaseline if you cannot apply a bandage.
If I chose to apply this to a tumor or an area that does not have surface contact what is the best way to apply? In this case I recommend you apply the salve and leave it bandaged for approximately 3 days, then remove the bandage and reapply again unless the area is oozing, in which case I recommend you wait a couple days to allow it to react then decide if it needs more applied. Often times this is when you need more advise from a practitioner. I do provide free advise to those that are members of the Pastoral Medical Association http://www.pmai.us and have purchased and are using FrankinThyme bloodroot black salve. I do not give advise to those using another brand of salve as I do not have first hand knowledge of the ingredients in other salves. None of my information or advise is intended to be taken as medical advise or to be used in place of medical advise. Acknowledging the above if you meet these requirements please feel free to email me pictures and questions to blacksalves@gmail.com