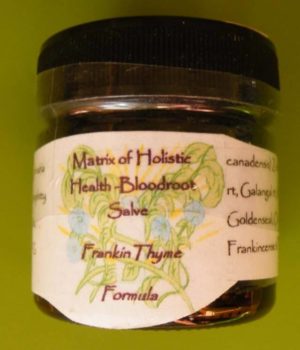 One jar of FrankinThyme Bloodroot Black Salve is $47.00. To order by Paypal, use the Buy Now button below.
If you would like to order by phone, please call 928-713-5617 and leave your phone number, address, number of jars desired, credit card number, expiration date, and 3 digit code.
Instructions for use of Matrix of Holistic Health Black Salve:
Do not use near eyes or mucous membranes. Apply to only one or two areas at a time as the area may become painful while the herbs work to remove abnormal tissue. Apply once. Cover area to be treated with salve and cover with a bandage for 24 hours. If abnormal cells are present the herbs will continue to work for several days. Do not pick or remove scab, allow it to fall out on its own. Oozing of liquid from the area is normal and is an indication that the herbs are working. Some areas may need more than one application. Some scarring may occur, this can be reduced by applying castor oil on area after the scab falls out. If you wish to reapply, wait until the initial reaction is completed. Some redness and discomfort is normal. Do not use metal applicators, only use wood or plastic ones.